2016 Ford Fusion
Stand Out. By Design. Sleek and stylish. Thoughtfully designed inside and out, the Fusion is a four-door sedan that resists blending in. We've given the Fusion a distinctive silhouette and an array of available smart technologies. Its bold look ignores the old notions of what a full-size sedan is expected to be. With its sculpted lines and a sleek silhouette, the 2016 Ford Fusion conveys a sense of agility. The bold, hexagonal grille gives the Fusion a distinctive look, while low-profile laser-cut projector headlamps and LED taillamps display intelligent technology. Open the door. Available ambient lighting with seven color choices establishes the mood, just as the available leather-trimmed seats and heated front seats convey luxury and add comfort.
Number of Available TRIMS: 8
contact dealer
for this model
contact dealer
for this model
2016 Ford Fusion
DESIGN / HIGHLIGHTS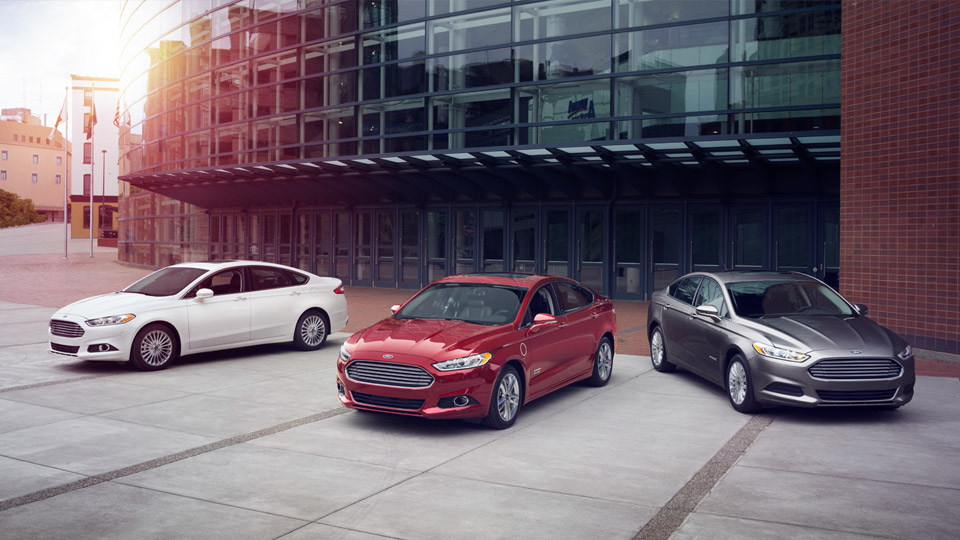 Projector Laser-cut Headlamps and LED Taillamps:
The projector headlamps clearly communicate the persona of the 2016 Ford Fusion — with a bold, wide appearance. Its standard automatic headlamps activate when the outside light lessens. Available automatic high-beam headlamps provide illumination as you need it, automatically changing modes from low beam to high beam once activated. Plus, the LED taillamps tend to illuminate faster than conventional taillamps — and have a longer life too. Included in the Driver-Assist Package. Full-circle LED taillamps shown on the Fusion Titanium.

Attractive Package Options:
The S Appearance Package includes:
18" premium painted sport wheels, lower front bumpers body color, lower rear bumpers body color, rocker molding-body color and rear spoiler and front fog lamps.
The SE Appearance Package* includes:
18" premium painted sport wheels, EcoCloth, fog lamps, rear spoiler, leather-wrapped steering wheel, plus red stitching on armrest, center console and seat

Ride and Handling:
2016 Fusion includes many high-performance features that result in precision and control for a smooth ride and easy handling.
• 6-speed SelectShift® automatic transmission with available steering wheel-mounted paddle shifters that offer a fun-to-drive experience
• European-inspired independent MacPherson strut-type with stabilizer bar to help reduce road noise and vibrations — and reduce body roll while cornering
• Electric power-assisted steering (EPAS) with pull-drift compensation to help continuously correct for road irregularities and to improve overall steering feel — especially when driving on crowned roads or in heavy side winds
• Active nibble control uses EPAS sensors to continuously monitor steering wheel inputs, detecting and correcting steering wheel rotational vibration — or nibble

Available Intelligent All-Wheel Drive (AWD):
Intelligent AWD* sensors balance torque between the front and rear wheels to enhance handling and maximize traction, typically before wheelslip can even occur. Available on SE and Titanium gas models equipped with the EcoBoost® 2.0L engine.
2016 Ford Fusion
EXTERIOR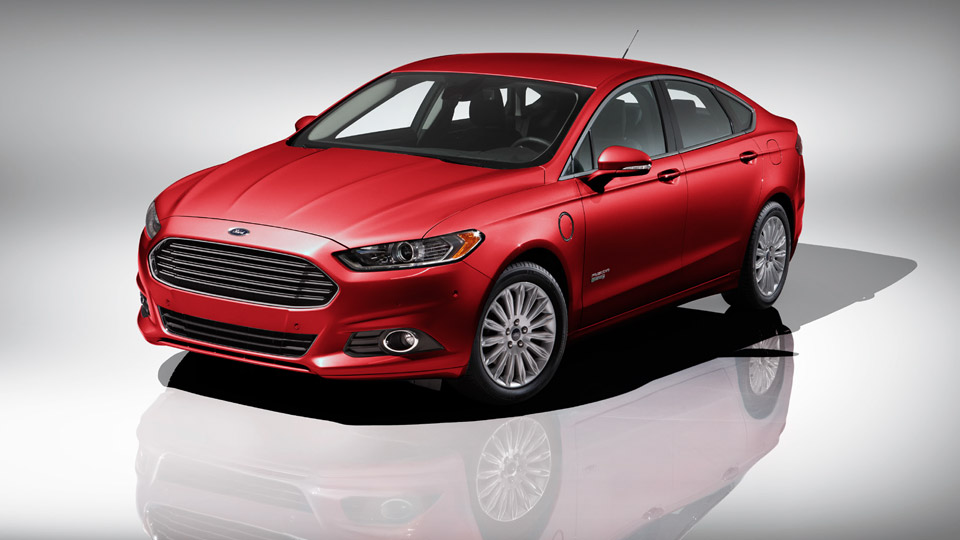 Aerodynamic Design and Craftsmanship
Inside, available driver-assist features can help you maintain proper lane position, parallel park with minimum effort on your part and even warn you of vehicles in your blind spot.* The SE Luxury Package includes finely crafted leather upholstery and heated, power front seats. The dashboard and center stack have a clean, contemporary look. The driver's seat features power adjustment to help you find your optimal driving position. And all seating includes ample rear leg room. Outside, it's not just sleek — it's aerodynamic. Available Active Grille Shutters open or close to help maintain the ideal engine temperature, closing to help improve aerodynamics when less engine cooling is needed. Standard on Fusion Hybrid and Fusion Energi Plug-In Hybrid models.

Wheel Choices:
1) 16" Alloy Wheel – standard on S (gas only)
2) 17" Painted Wheel – standard on SE (gas only)
3) 17" Sparkle Silver Wheel – standard on Hybrid S and Hybrid SE and Fusion Energi SE
4) 17" 10-Spoke Painted Aluminum Wheel – standard on Hybrid Titanium, Fusion Energi Titanium and included in Hybrid SE Appearance Package
5) 18" 5-Spoke Black Premium Painted Wheel – optional on the SE Appearance Package (gas only)
6) 18" Premium Painted Wheel – included in the S Appearance Package and SE Appearance Package
7) 18" Machined and Painted Aluminum Wheel – included in the Terracotta Package (gas only)
8) 18" Premium Painted Wheel - Optional on SE with Luxury Package 202A (gas only)
9) 18" Ebony Black Wheel – optional on SE with Luxury Package 202A (gas only)
10) 18" Premium Polished Wheel - standard on Titanium (gas only)
11) 19" H-Spoke Dark Stainless Aluminum Wheel – optional on Titanium (gas only)
2016 Ford Fusion
INTERIOR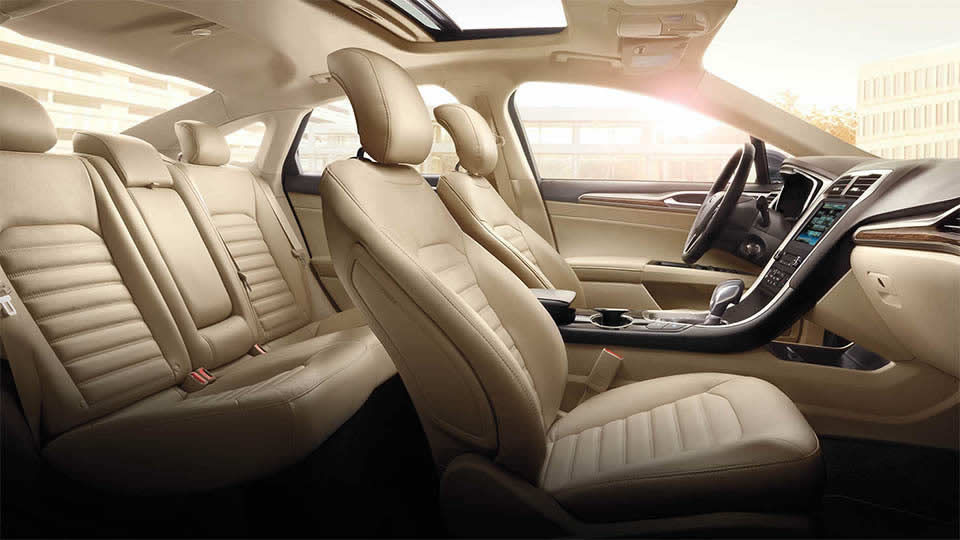 Luxurious Seating:
• SE/SE Hybrid – cloth, 10-way power driver's seat with power lumbar, six-way power passenger seat
• SE Luxury/SE Luxury Hybrid/SE Luxury Fusion Energi – leather-trimmed, heated, 10-way power driver's seat with three memory settings, power lumbar, six-way power passenger seat
• Titanium – sport-stitched, leather-trimmed, heated front seats, 10-way power driver's seat with three memory settings, power lumbar, 10-way power passenger seat Eco-conscious materials are standard on hybrids.
• Standard cloth seats feature fabric made with REPREVE® – a fiber using 100 percent recyclable materials that might have otherwise ended up in a landfill. In addition, the seat cushions and head restraints use a bio-based polyurethane foam derived from the oils of various plant seeds, such as soybeans.
• If you opt for the Appearance Package, available on gas and hybrid SE models, EcoCloth seats will feature red stitching along with red stitching on the armrest and center console. Plus, the steering wheel will be wrapped in leather.

Available Ambient Lighting:
You can choose from seven colors – Ice Blue, orange, soft blue, red, green, blue or purple – to illuminate the front and rear footwells, front center console bin and door handle pockets. Plus, you can enhance the interior illumination with LED interior lamps. Noncustomizable red LEDs are also used in the door lock indicators in all Fusion models.

Available Climate Control Features:
Whether it's January or July, these features will help keep you comfortable:
• Heated front seats, available on SE, standard on Titanium
• Heated and cooled front seats, available on Titanium models
• Three comfort settings for heating and cooling
• Heated steering wheel can be turned on/off by touching an icon on the Available SYNC® with MyFord Touch® screen (shown with optional Navigation), SE and Titanium models
2016 Ford Fusion
ENVIRONMENT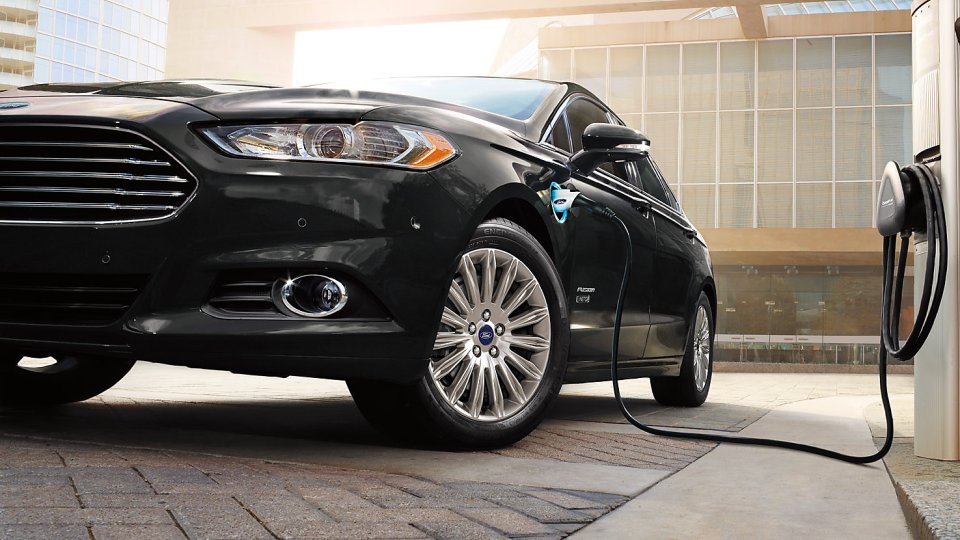 Fusion Hybrid

The 2016 Ford Fusion Hybrid has an EPA-estimated rating of 44 city/41 hwy/42 combined mpg. Its 2.0L I-4 Atkinson-cycle gasoline engine delivers 188 horsepower. The vehicle can travel at speeds up to 85 mph in the all-electric mode. To help you drive more efficiently, next-generation SmartGauge® with EcoGuide acts as a driving coach, providing real-time driving feedback, courtesy of screens on either side of the center-mounted speedometer. Left-side display screens include Engage and Empower modes, providing a variety of real-time information to help you maximize efficiency from your vehicle. When your driving becomes more efficient, the right-side cluster display grows leaves and vines. You can track the powertrain's operation – hybrid drive, electric drive, gas engine, plus instant and average fuel economy.

Fusion Energi Plug-In Hybrid

Fusion Energi Plug-In Hybrid provides the option of plugging in or not. It's designed to be efficient, due to a gas engine and a state-of-the-art, lithium-ion battery — with the ability to operate in all-electric mode for an EPA-estimated range of up to 19 miles.* Plus, it features a regenerative braking system that captures the braking energy and stores it for later use. If you choose to plug in, you can fully charge the battery in 7 hours using the standard 120-volt convenience cord. Or, for faster charging, opt for an available Ford-recommended AeroVironment™ 240V home charging option. Both hardwired and portable options are available through 1-888-219-6747 or evsolutions.com/ford, which can fully recharge your vehicle in 2.5 hours. When fully charged, the EPA-estimated total driving range is 550 miles. The MyFord® Mobile** app and myfordmobile.com website also let you monitor and schedule charging for your vehicle from just about anywhere to help you maximize your range
2016 Ford Fusion
PERFORMANCE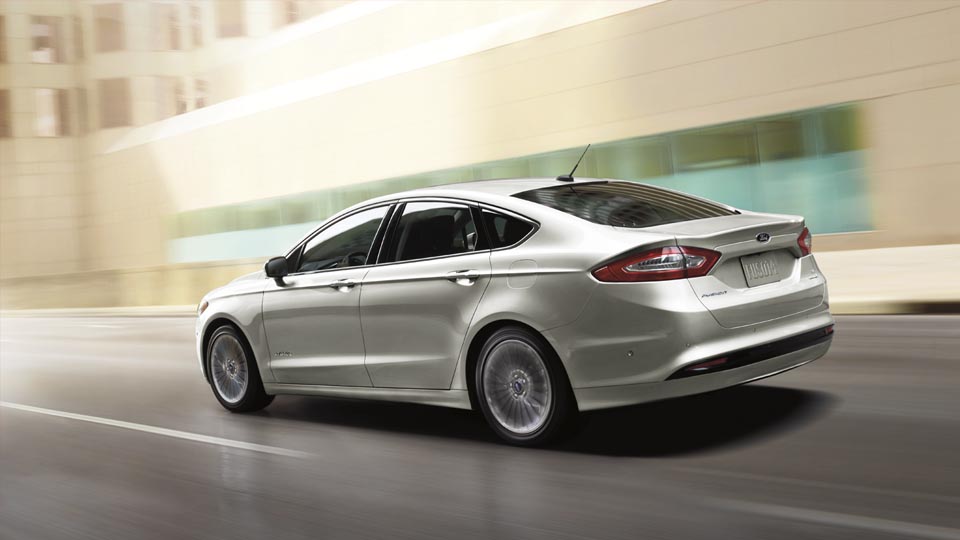 Sleek, stylish and efficient.
Fusion Hybrid and Fusion Energi Plug-In Hybrid models have a state-of-the-art lithium-ion battery (a larger one in the plug-in model) and an electric motor with a gasoline engine for efficient operation. These models also feature next-generation SmartGauge with EcoGuide, providing real-time information to encourage you to drive more efficiently. A standard Regenerative Braking System captures 90 percent of the kinetic energy and uses it to recharge the battery. In gas-powered models, two available EcoBoost engines are designed to enhance efficiency, thanks to turbocharging, direct injection and twin independent variable cam timing.

Suspension System:
Fusion features a MacPherson strut-type with stabilizer bar and multilink independent rear suspension. This helps provide a smooth ride in straightaways and a balanced, nimble ride when the Fusion takes on a corner or curve.

Six-Speed SelectShift® Automatic with Paddle Shifters:
You don't have to know how to drive a manual transmission or learn how to master a clutch to enjoy the sporty feel of shifting gears. Using race-inspired technology, the available steering wheel-mounted paddles provide an exhilarating driving experience by letting you quickly and easily go from gear to gear without taking your hands off the steering wheel.

Next-Generation SmartGauge® with EcoGuide:

The dual LCD Next-generation SmartGauge® with EcoGuide provides real-time information to help you enhance the efficiency of your Fusion Hybrid or Fusion Energi Plug-In Hybrid. The MyView screen lets you customize screens to your liking. Configurable screens such as Brake Coach help you maximize your vehicle's efficiency. Left-side display screens include Engage and Empower modes.

In Engage, you'll see separate gauges for engine power and lithium-ion battery power and "EV" displayed when the vehicle is operating on battery power only. In Empower, which includes all the information in Engage, you'll also see how close you are to the gasoline engine on/off threshold and the amount of power being requested based on how far you're depressing the accelerator pedal. Five-way steering wheel-mounted controls make it all easy. Plus, as your driving efficiency increases, the right-side cluster display grows leaves and vines.
2016 Ford Fusion
SAFETY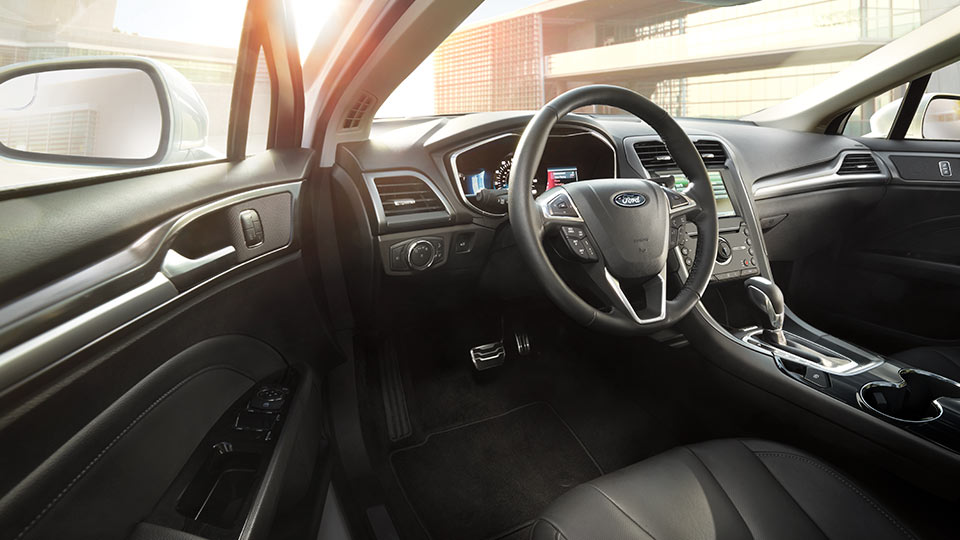 Standard Rear View Camera:
Put the gear selector in Reverse and the rear view camera automatically transmits the image of what's behind you to your touch screen when you're slowly backing up. The rear view camera is standard on all models.

Available Lane-Keeping System:
The Lane-Keeping System includes both the lane-keeping alert and the lane-keeping aid.* A camera mounted behind the windshield watches road lane markings to determine vehicle position and detect a lane departure. The system can operate during the day or night. Lane-keeping alert warns you through a series of steering wheel vibrations, which mimic a rumble strip, should the system detect an unintentional lane departure. Lane-keeping aid actively applies steering torque, which alerts you to direct your vehicle back into the target lane, should the system detect an unintended lane departure.

Available BLIS® (Blind Spot Information System) with Cross-Traffic Alert:
Radar in the rear quarter panels detects whether a vehicle is in your blind spot and alerts you with an indicator light in the appropriate sideview mirror. Cross-traffic alert uses radar to watch for traffic behind you when you're slowly backing out of a parking spot or your driveway. If cross-traffic alert sensors detect a vehicle approaching from up to 15 yards away, you will be alerted by a visual display in the corresponding mirror and a signal in the message center.

Electric Power-Assisted Steering (EPAS):
Electric Power-Assisted Steering (EPAS) automatically adjusts to deliver the precise feel and control you need at higher speeds, as well as the assistance slower speeds require. EPAS features drift control and active nibble control. Drift control technology detects road conditions – such as a crowned road surface or crosswinds – and adjusts the EPAS to compensate. The active nibble control feature uses the EPAS motor to reduce unwanted vibrations in the steering wheel. The result — a comfortable driving experience and responsive steering.

Regenerative Braking:
When you apply the brakes in a conventional vehicle, kinetic energy is lost due to friction. During braking in the Fusion Hybrid and the Fusion Energi Plug-In Hybrid, however, regenerative braking recovers more than 90 percent of this energy and sends it back to the battery pack to be stored for later use.
2016 Ford Fusion
TECHNOLOGY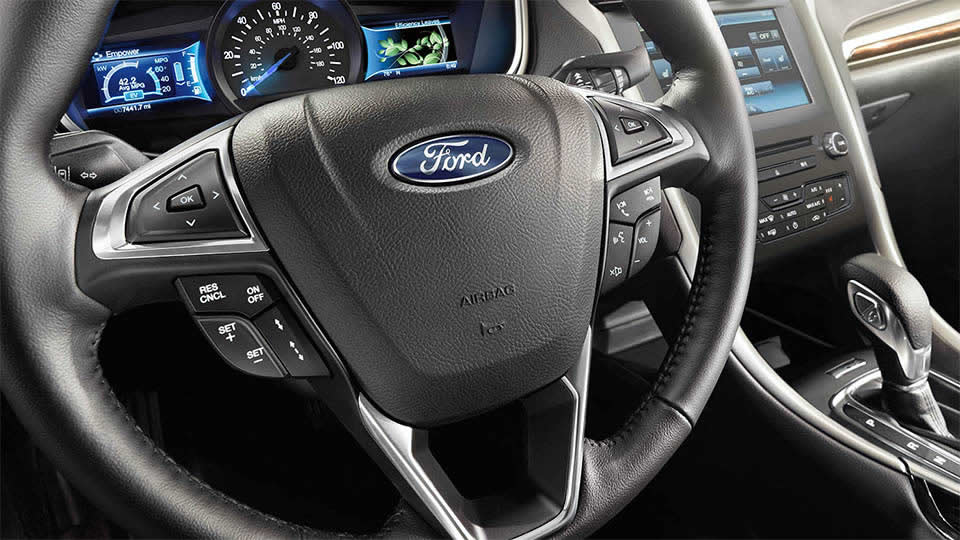 Smart driving technologies:
The technology in the 2016 Ford Fusion can make your drive more convenient and help alert you in the event of a potential collision.
• The standard rear view camera transmits the image of what's behind you to your touch screen when you're slowly backing up.*
• Available SYNC® voice-activated technology with MyFord Touch® allows you to keep your hands on the wheel and your eyes on the road while you make music selections, control the interior climate, and place or receive phone calls.27
• Available inflatable rear outboard safety belts help distribute crash-force energy across more of the torso area than a traditional belt.
• With your keys in your pocket or purse, available Intelligent Access with push-button start allows you to touch the door handle to unlock the driver's side door or all the doors. Once inside, just press the brake pedal and then the start button.
• There are also available features that can warn you of vehicles detected in your blind spots and assist in parallel parking your car with minimal input from you.

Available Inflatable Rear Safety Belts:
The Fusion is the first vehicle in its class* to offer inflatable rear safety belts. These outboard rear safety belts help distribute crash-force energy across more of the torso area than traditional belts, which helps reduce the risk of injury, while providing support to the head and neck. In the event of a front or side crash, the inflatable safety belts hold the passenger in the appropriate seating position, helping to reduce risk of injury. These safety belts are compatible with many infant and child-safety booster seats.

SYNC® with MyFord and SYNC® with MyFord Touch:
Available voice-activated SYNC®27 helps keep your eyes on the road and your hands on the wheel. An information cluster screen is also there to assist you.27
• With hands-free calling, you'll never miss a phone call when you're behind the wheel48
• Simply say what or whom you want to hear and get it with voice-activated music search
• Bluetooth® audio lets you wirelessly control your entertainment with voice commands48
• Have incoming text messages read aloud to you
• 911 Assist® can call for help in an emergency, even if you can't28
• Information screens display your information in the cluster panel and center stack
Upgrade to SYNC with MyFord Touch®27 for the ultimate in capabilities:
• A customizable, 8-inch touch screen in the center stack, dual 4.2-inch cluster screens, audio/video input jacks, two USB ports and WiFi®48 capability
• Voice-recognition technology responds to commands as simple as ''find restaurant'' and can also be used to adjust your climate
• Find the SiriusXM radio stations you want with voice commands
DISCLAIMERS:
Starting MSRP excludes destination/delivery charge, taxes, title and registration. Optional equipment not included.
contact dealer
for this model
Need Assistance?
Morlan Ford

has an expert staff of experienced automotive professionals who are available to answer your questions and address your auto needs in Sales, Finance, Service, and Parts. Meet Our Staff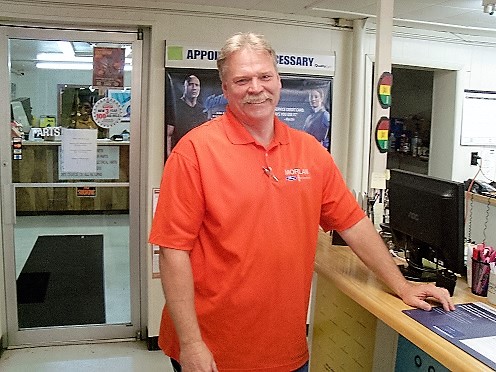 Service Team
Service Managers and Advisors
Morlan Ford Lincoln
The Service Department at Morlan Ford is staffed with automotive professionals who are committed to service excellence. Let us help you service your vehicle. We work on all Makes and Models.
STAFF TOOLS:
--Recommended Videos
--Work Schedule
--Expertise
--Certifications
--Read/Write Reviews