2016 Ford Mustang
Powerful. By Design. Put your hands on the wheel of a Mustang and you feel one thing above everything else: power. With four engines to choose from, the new Mustang is designed to overwhelm the senses with its pulse-raising torque and legendary roar. Make no mistake – the Mustang is engineered for pure exhilaration. The front and rear suspension systems work together to provide precise handling and control with: Fully independent rear suspension, Double-ball-joint front suspension, Pitch control during hard acceleration and hard braking, and Reduction of body roll improves the overall feel and ride vs. the previous generation.
Number of Available TRIMS: 7
contact dealer
for this model
contact dealer
for this model
2016 Ford Mustang
DESIGN / HIGHLIGHTS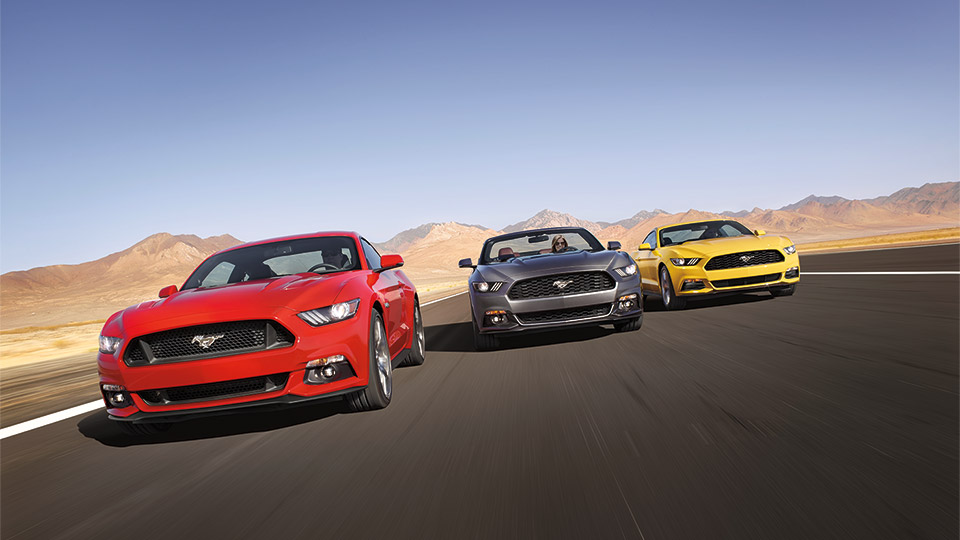 Selectable Drive Modes:
Customizable driving preferences let you dial in the handling dynamics to your liking. Mustang adjusts its handling and response characteristics to optimize control according to your selection. Simply select your desired driving mode using a toggle switch on the center stack. Settings include:
• Normal
• Snow/wet
• Sport
• Track

Shelby GT350:
The legacy returns with adrenaline-pumping performance.
5.2L V8 with flat-plane crank
526 hp and 429 lb.-ft. of torque
3.73 TORSEN limited-slip differential
MagneRide suspension

2.3L EcoBoost:
The available 2.3L EcoBoost® engine - a marvel of power and efficiency.
310 horsepower
320 lb.-ft. of torque

5.0L V8 Engine:
Mustang GT - the stuff of legends.
435 horsepower
400 lb.-ft. of torque
Mustang has always been about power. The 2016 models continue in that tradition. Each engine delivers at least 300 horsepower.
• The 3.7L V6 offers up 300 hp and 280 lb.-ft. of torque. Standard on V6 Fastback model.
• The 2.3L EcoBoost engines churns out 310 hp and 320 lb.-ft. of torque. Standard on EcoBoost and EcoBoost Premium models.
• The 5.0L V8 kicks out 435 hp and 400 lb.-ft. of torque. Standard on GT and GT Premium models.
• The 5.2L V8 delivers 526 hp and 429 lb.-ft. of torque. Standard on the Shelby GT350
Available launch control and class-exclusive available Electronic Line-Lock enhance the performance feel of the Pony car, while available driving modes allow you to dial in the handling dynamics to your liking.

Ideally balanced power:
The Mustang 3.7L V6 strikes an ideal balance of power, displacement and efficiency.
300 horsepower
280 lb.-ft. of torque
EPA-estimated 19 city/28 hwy/22 combined mpg

Precise handling and control:
The front and rear suspension systems work together to provide precise handling and control.
Fully independent rear suspension
Double-ball-joint front suspension
Pitch control during hard acceleration and hard braking
Reduction of body roll improves the overall feel and ride vs. the previous generation.
2016 Ford Mustang
EXTERIOR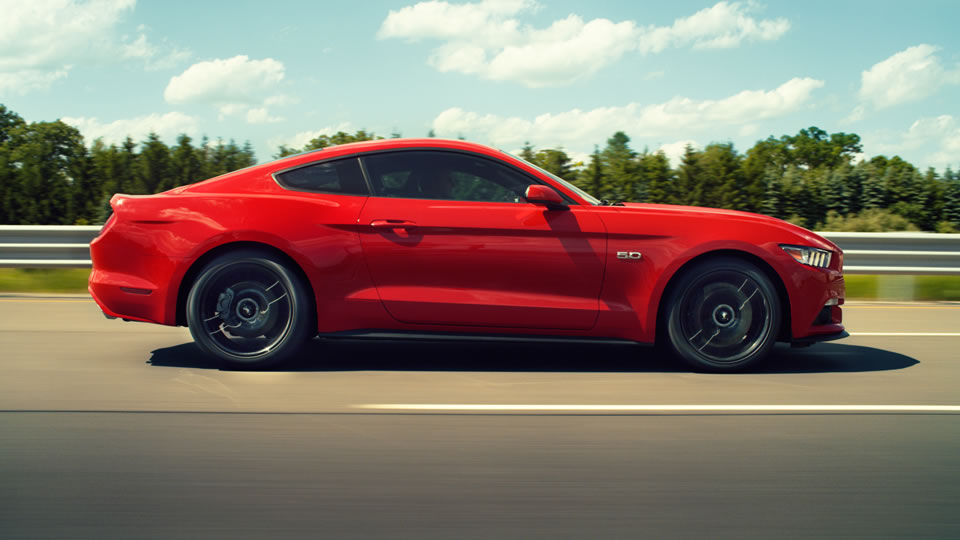 Unmistakably Mustang.
Classic Mustang lines and curves are timeless. Signature HID headlamps and signature LED tri-bar taillamps with sequential turn signals are standard as are dual exhaust pipes. The interior is comfortable and accommodating. Bucket seats, a leather-trimmed steering wheel with secondary audio and speed controls and tilt/telescoping steering column, plus an auto-dimming rearview mirror are all standard. There are a number of available features you can select from to make your Mustang even more sporty and comfortable.

Modeled after the classic Mustang fastback – with its sleek, sporty aerodynamic look - every 2016 Mustang has standard HID headlamps and signature LED tri-bar taillamps with sequential turn signals. Dual exhaust pipes are standard on all models and air extractor hood vents with integrated turn signals are standard on GT models. And to match your own unique style, Mustang comes with a long list of options for all models, including 12 available wheel designs ranging from 17 inches to 20 inches.

Standard HID and LED Signature Lighting:
Coming or going, Mustang is instantly recognizable with high-intensity discharge (HID) headlamps with signature LED lighting and LED tri-bar taillamps with the famous Mustang sequential turn signals.
2016 Ford Mustang
INTERIOR
The Cockpit
The driver's seat – set in a low, sporty position – offers abundant travel for comfortable positioning. The small steering wheel manually telescopes and tilts, helping provide a controlled feel. The shifter leaves ample clearances for the controls, while the cupholders are positioned outside of the shift path. You'll enjoy ample knee room, as well as a left-side footrest (dead pedal) set to the same angle as the accelerator pedal.

Heated and Cooled Seats:
The six-way, power-adjustable leather-trimmed driver and front passenger seats in EcoBoost Premium and GT Premium models are heated and cooled. The driver's seat includes power lumbar support and available driver memory.
2016 Ford Mustang
AUDIO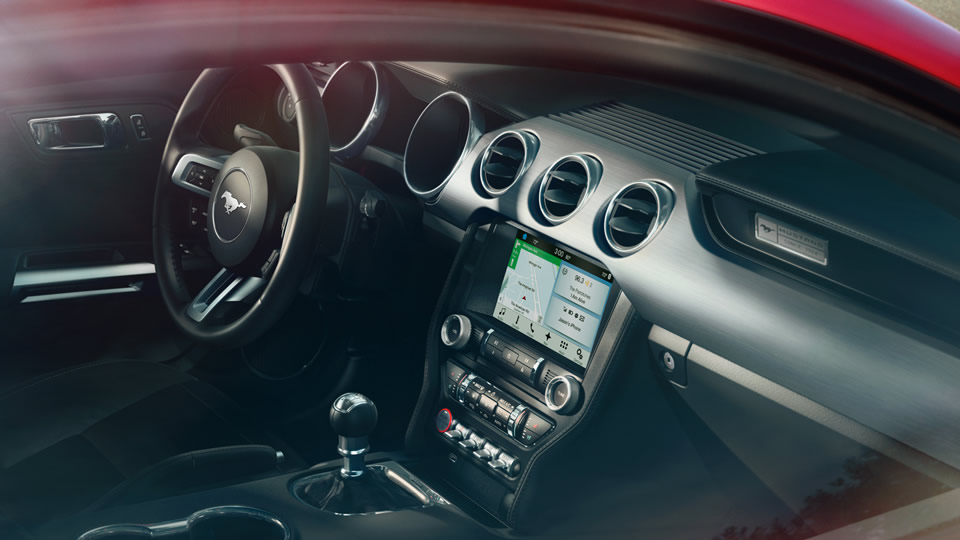 Shaker Pro Audio with HD Radio
The 390-Watt Shaker Pro Audio System with HD Radio Technology is optional on EcoBoost® Premium and GT Premium models. The audio system includes an AM/FM stereo, single-CD/MP3 player and 12 speakers including an eight-inch subwoofer which has been smartly mounted in the trunk without sacrificing storage space. With HD Radio Technology, FM stations have CD-quality sound and AM stations sound like FM stations. Reception is crystal clear, with no audio distortion, buzz, popping or static. Additionally, there are more channels offering more of the type of programming you like, as well as new formats – more music, more news and more sports. Information such as song, artist, breaking news, weather alerts, sports scores and more is displayed on-screen. Best of all – there are no subscription fees, plans or monthly bills with this system.
2016 Ford Mustang
CAPABILITY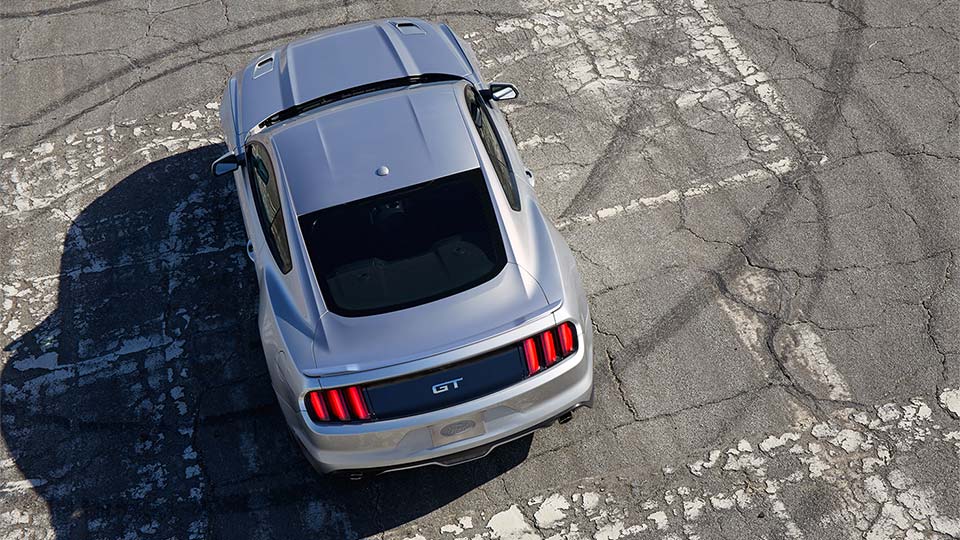 MUSTANG SHELBY GT350:

• Powertrain
The heart and soul of this beast lives in the 5.2L V8 engine with a flat-plane crank that produces 526 horsepower. It's bolted to a world-class TREMEC® 3160 6-speed manual transmission and you have a car that delivers 429 lb.-ft. of torque.

• Chassis and suspension
The MagneRide Damping System monitors and adjusts itself thousands of times per second for a dynamic, adrenaline-fueled driving experience. But with our obsession for detail, we just couldn't stop there. Our attention to detail drove us all the way down to which way the springs coiled, therefore, requiring new lower control arms. This racer was designed, engineered and built so the springs, sway bars and dampers work together as one finely tuned system. We also added new lightweight chassis components and a set of Michelin® Pilot® Super Sport tires wrapped around lightweight, yet incredibly stiff, aluminum wheels. So yeah, the Shelby GT350® delivers a special rush when you get behind the wheel.

• Braking
The foundation of any sports car is undoubtedly the brakes, therefore, brakes are a major part of the GT350 magic. So we teamed up front and rear Brembo® calipers with cross-drilled, two-piece, highly-engineered brake rotors. The huge 394mm (15.5") rotors up front and 380mm (14.9") rotors in the back complete this tight, hardworking system that gives GT350 its well-earned track cred.

• Aerodynamics
Balancing downforce while minimizing aerodynamic drag is always one of the biggest challenges a team of car designers can face. But Ford did it with a unique, detailed approach that centered on making it imperative that every single component play a major part in the total overall performance of the system. It's a very hard thing to pull off, but our team of designers and engineers wouldn't settle for less. So it's not just that the GT350 has wide aluminum front fenders and a unique aluminum hood. It's also that the front and rear fascias, splitter, rockers and rear valance with integrated diffuser all work together as a team – each and every one of them.
What truly sets this Beast apart is that the Shelby GT350 isn't just a combination of "go fast" parts – any tuner can build one of those. The GT350 is a specifically engineered machine, where the components work dynamically together as one and perform to a world-class level on all fronts, as well as meeting Ford durability standards. It's all due to the focus of the Ford Performance Engineers to make a car that delivers thrills like this, yet still possess everyday driveability. Quite simply, the GT350 was engineered so you will say – from the race track to winding back roads, the GT350 can do it all.
2016 Ford Mustang
PERFORMANCE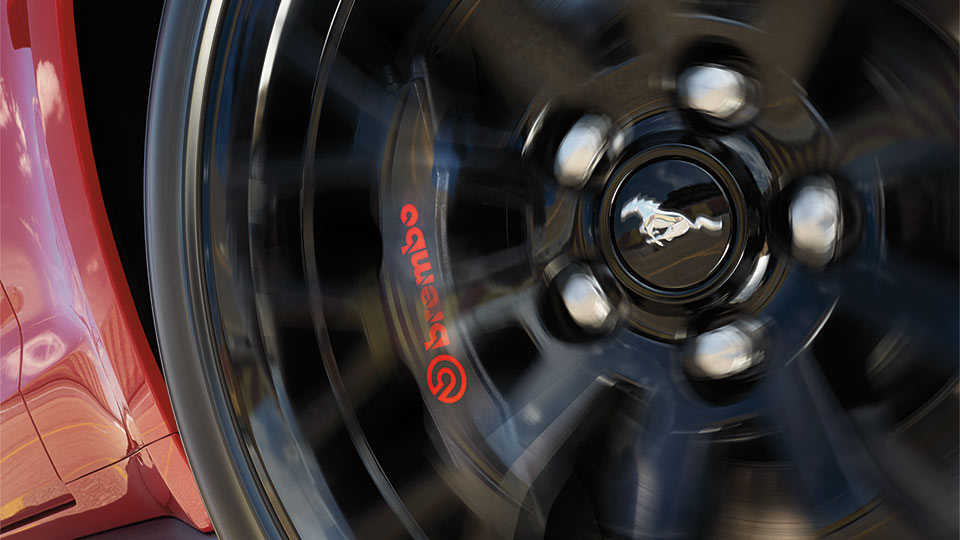 2.3L EcoBoost
The 2.3L EcoBoost engine delivers 310 hp and 320 lb.-ft. of torque. An optimally sized twin-scroll turbocharger separates the exhaust runners in two chambers that run all the way to the turbine. This transfers high-pulse energy to the turbine wheel, resulting in ultrafast time-to-torque. If all this sounds too technical, simply give 'er the gas and enjoy the quick response.

5.0L GT
From the deep, guttural rumble at idle, to the wide-eyed force of torque in acceleration, this engine is all about performance. It delivers 435 horsepower and 400 lb.-ft. of torque – that's increased horsepower and torque vs. the fifth-generation vehicle. The engine is intended to maximize power generation from every compression, with large intake and exhaust valves, cylinder heads that feature high-flow ports and intake and exhaust camshafts that have impressive lift. And the icing on the cake – the 5.0L exhaust delivers a more powerful acoustic experience.

3.7L V6
The 3.7L V6 has twin independent variable camshaft timing (Ti-VCT) technology and delivers 300 hp and 280 lb.-ft. of torque. Equally impressive is its EPA-estimated rating of 19 city/28 hwy/22 combined mpg. Ti-VCT provides precise timing and control of the engine's air and fuel intake and exhaust output. It helps enhance peak power, low-speed torque in driving situations like passing and merging, and helps optimize efficiency and cold-start operation.

Launch Control
Launch control integrates the brakes, traction control and powertrain control to help ensure smooth, consistent starts for all driving conditions. Real-time vehicle performance info is displayed through Track Apps on the in-dash LCD screen. This advanced system can assist drivers of all skill levels to drive like the pros by helping them realize excellent torque balance, grip and acceleration.

Electronic Line-Lock
Class-exclusive Electronic Line-Lock, standard on Mustang GT, is the first feature of its kind in the industry, and the perfect tool for Mustang owners who love to test their skills at the track. Electronic Line-Lock keeps the front brakes locked while releasing the rear brakes, letting you then apply the accelerator to spin and warm up the rear tires to enhance grip. You won't have to balance one foot on the brake and the other on the gas or install a mechanical line-lock. With the tires properly warmed up, drivers can pull up to the staging line, engage the launch control and catapult off the line when the lights go green.
2016 Ford Mustang
SAFETY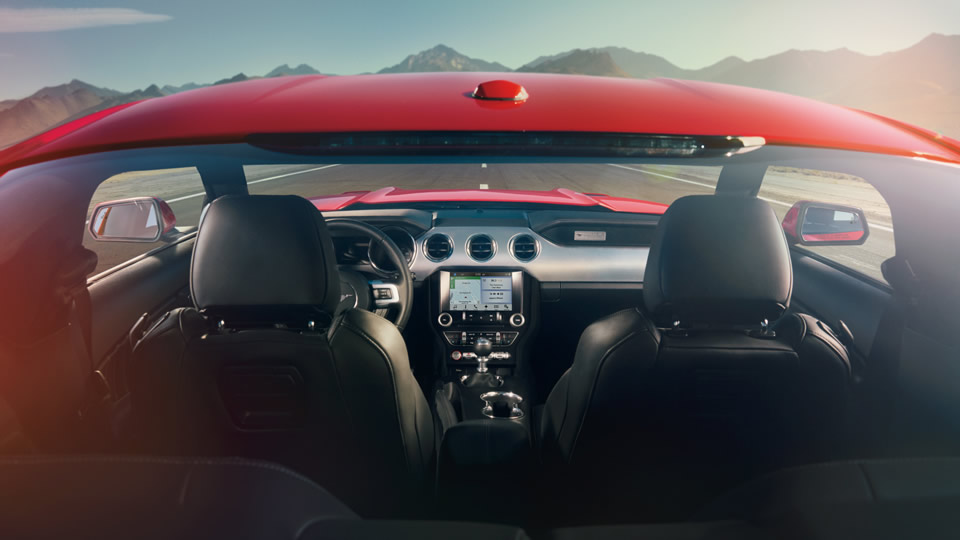 BLIS® (Blind Spot Information System) with Cross-Traffic Alert:
The available BLIS with cross-traffic alert helps make driving more convenient. It uses radar to identify if a vehicle is detected in your blind spot and alerts you with an indicator light in the appropriate exterior mirror. Cross-traffic alert also uses radar to watch for traffic behind you as you're slowly backing out of a parking spot or driveway. If cross-traffic sensors detect a vehicle approaching from up to 15 yards away, you will be audibly and visually alerted.
2016 Ford Mustang
TECHNOLOGY
Advanced technology to make your blood pump faster.
The 2016 Mustang has an impressive array of standard and available advanced technology features. From Intelligent Access with push-button start that makes getting in and starting your vehicle a breeze to available adaptive cruise control, featuring sensors that detect traffic slowing ahead and slow your vehicle down, the technology features in Mustang enhance your driving experience. If you're an audiophile, or want to become one, you'll want the available 390-watt Shaker™ Pro Audio System with HD Radio Technology with 12 speakers including an eight-inch subwoofer.

Damping System
Using fewer components than a traditional damping system, the MagneRide Damping System shields you from rough road surfaces while at the same time reducing body roll and improving road feel. When motion sensors detect a bump, pothole or obstacle, magnetic energy is automatically adjusted to provide optimal damping for both comfort and control. It all happens faster than the blink of an eye.

Intelligent Access with Push-Button Start:
Getting into and starting your Mustang is incredibly simple, thanks to standard Intelligent Access with push-button start. With the key fob in your pocket or bag, unlock the driver's door with a touch of the handle. Once inside, press the brake pedal (the clutch with manual transmission), then start the engine with the push of a button.

Adaptive Cruise Control and Rain-Sensing Wipers:
Available adaptive cruise control functions similarly to traditional cruise control—with one important difference. When the sensors detect traffic slowing ahead, your vehicle also slows down based on your pre-set distance. And when traffic has cleared, your vehicle resumes the set speed.

Forward collision warning with brake support can alert you if it senses a potential collision with the car in front of you. A heads-up display, which simulates brake lights, flashes on the windshield and provides an audible warning. If you don't react in time, the brakes will precharge and increase brake-assist sensitivity to provide full responsiveness when you do brake.

Rain-sensing wipers features technology that's there when you need it most. Enable the automatic setting, and they'll turn on automatically when rain or snow is detected on the windshield.

Navigation System:
The available voice-activated Navigation System includes a complementary five-year subscription to SiriusXM Traffic and Travel Link, which combines Global Positioning System (GPS) technology with 3-D mapping and provides voice-guided turn-by-turn directions. With SiriusXM Traffic and SiriusXM Travel Link, you'll get detailed traffic information, plus current and forecast weather, gas station locations and prices, sports scores and schedules, and theater locations with movie listings and times.

SYNC® 3:
Hands-free calling
• Make a call with a simple push of a button along with the sound of your voice, and the phone conversation can be heard through your vehicle speakers
• Download the names and numbers programmed in your compatible phone automatically

Music search and control
• Say what music you want to hear and listen to it easily with voice-activated search or say "Bluetooth® audio" to stream your favorite content on your phone wirelessly

SYNC AppLink™
• Use your voice to control some of your favorite compatible mobile apps while driving63

No-extra-charge 911 Assist
• Connect your compatible cell phone to this convenient no-charge feature to help call 911, even if you can't .

Upgrade to SYNC 3. Our next generation of voice-activated technology.
New easy-to-use design. New interface. New features. SYNC 3 is not only new, it's responsive and innovative. Just say the word and discover how SYNC 3 delivers next-level connectivity.

New hardware meets new software
• Find an easy-to-read color touch screen that conveniently displays phone, audio and available navigation functions, all on the home screen

High-speed performance
• Experience quick reactions to your commands. From a light tap on the touch screen to simple voice commands, SYNC 3 delivers at an impressive speed

Capacitive touch screen
• The capacitive touch screen has impressive responsiveness such as the convenient swipe feature, similar to what is found on your smartphone

Enhanced voice recognition
• Talk with simple, real-world voice commands and the system responds naturally to your voice

Easy destination entry
• Locate your favorite restaurants, nearest ATM and more, with simple destination entry via the optional navigation

Siri® seamless integration
• Bring the power of Siri Eyes Free and your iPhone® into your vehicle

Automatic updates over Wi-Fi
• Keep SYNC 3 up to date with the latest software as new updates become available – all you need is a Wi-Fi connection
DISCLAIMERS:
Starting MSRP excludes destination/delivery charge, taxes, title and registration. Optional equipment not included.
contact dealer
for this model
Need Assistance?
Morlan Ford

has an expert staff of experienced automotive professionals who are available to answer your questions and address your auto needs in Sales, Finance, Service, and Parts. Meet Our Staff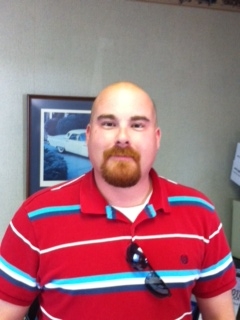 Roger Elledge
Sales/Finance
Morlan Ford Lincoln
Welcome to our website! Thank you for patronizing our dealership for all your automotive needs. We appreciate your business and look forward to serving you.
STAFF TOOLS:
--Work Schedule
--Read/Write Reviews